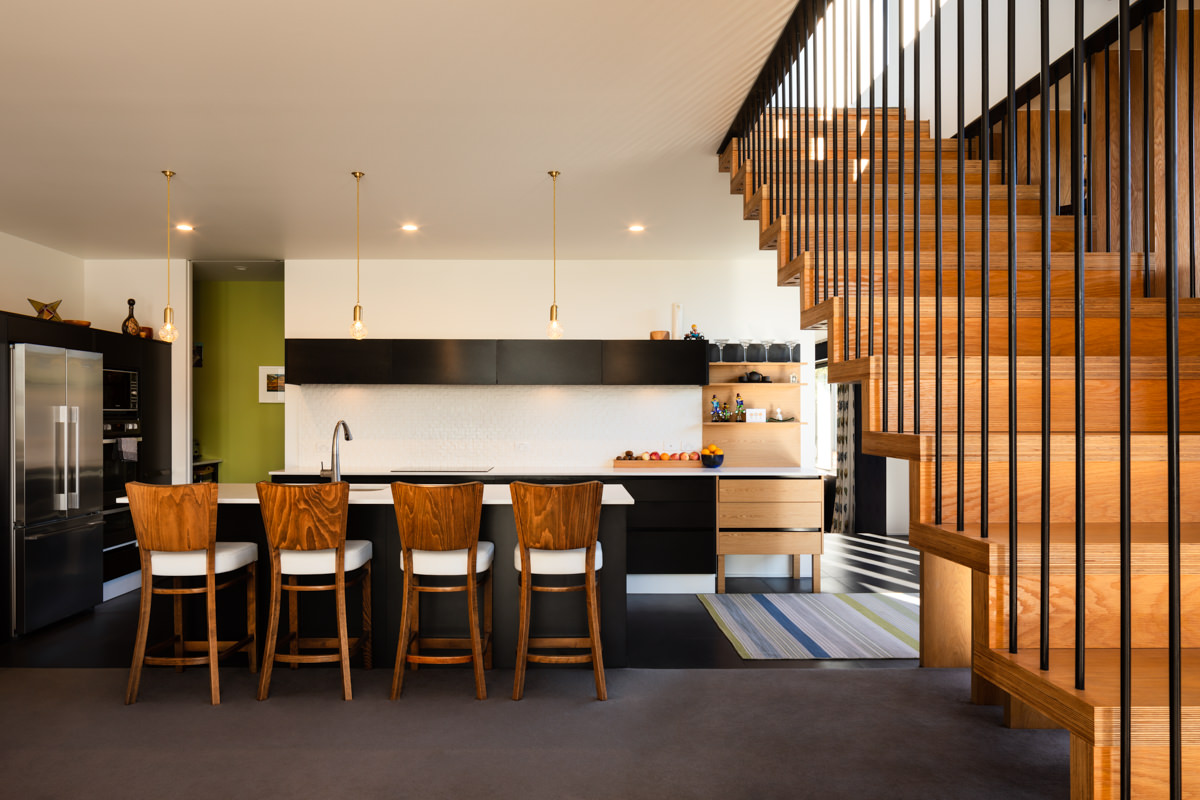 Quake shaken bungalow reinvented
After the 2011 Christchurch earthquake, damage to the existing Wairakei Road bungalow on TC3 land necessitated a full demolition and rebuild solution. In positive terms, this provided an opportunity to modernise what was a rather tired suburban section.
The brief for the new house was to create a building in keeping with its surroundings and its neighbourhood context, respectful of its predecessor but with its own sleek, chic personality.
The resulting townhouse is light, open-plan and rectilinear. A white, bevelback weatherboard box references the old villa, intersected by a modern double-height LVL and glass element, placed to provide light, views and circulation through the ground floor and up a feature stairwell to the second level.
Full-height joinery allows the dwelling to maximize the floor area of its tight section – by considering the extents of the property as a part of the living space. While only one metre in width, the slim outdoor terrace along the long driveway boundary is separated only by double glazing and dark LVL columns, and the fence – a green wall – is a space efficient and low maintenance garden that adds a feeling of lush outdoor space to the interior.
Two second level bedrooms, each with their own ensuite, complement a ground floor library, accessible bedroom, bathroom and laundry and a generous kitchen / dining / living space that flows out to a sunny patio at the front; all neatly packed into 180m2. This is the ideal inner-suburban entertainment pad.
Built: 2014 | Engineer: Lewis & Barrow | Builder: The Woodsmith
Photographs copyright of: Jason Mann Photography
_______________________________________________________
Other projects you may like